Thoughtless Music presents...
Tuesday, Jul 5 2011 - 11:19 AM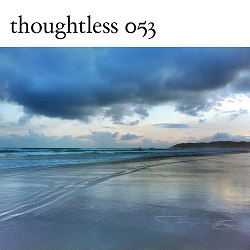 TLM053: Ruoho Ruotsi - Pour Autant

San Francisco artist and def'child productions label boss Ruoho Ruotsi finally returns to Thoughtless following his remix of Rift for TLM020 with three tracks of fearlessly deep techno-dub. The primordial strains of 'Pour Autant' emerge from reverberant depths to form an expansive network of lithe, twisting strands that intertwine the central bass theme and stripped-down percussion which serve to keep it afloat in the vastness of its own created space.
Emerging Boston artist R. Audiard steps up to deliver a more streamlined approach, balancing his subtle arrangement with an impeccably crafted low-end that's designed for supple sound systems. 'Loquebantur' builds from primal scraps of percussion and abstract vocals, gaining momentum from impulsive rhythms until eventually unfurling in the form of an intergalactic hymn. Bringing us back to the wild aquatic sound he's mastered through previous releases, Ruoho's 'Waiting For Troll' is a late night meditation with cinematic scope. Haunting, dreamlike, primal yet cosmic, 'Pour Autant' is as unique a take on the fertile intersection of dub and techno as we've heard in quite some time...


01. Pour Autant
02. Pour Autant - R. Audiard remix
03. Loquebantur
04. Waiting For Troll


Take a listen and buy it now on BEATPORT - but don't just take our word for it...


"I really like the positive vibration of Pour Autant, original & remix! Thank you!" - CIO D'OR, Prologue

"Another classy release - will spin, thanks!" - SLAM, Soma

"Great EP and very original music here. Very organic. Will play Waiting For Troll for sure. Thanks!" - STEFNY, Contexterrior

"Wow. Super trippy stuff. I love it." - ALLAND BYALLO, Poker Flat

"Pour Autant original for me, fantastic!" - ANGEL MOLINA, Sonar

"Great Release!! Thank you!" - EDGAR DE RAMON, Mindshake

"Wow, this release is excellent! LOVE IT!" - HABERSHAM, Text Book

"Very sexy techno!" - LARS BEHRENROTH, Deeper Shades

"I will play this out. Thanks!" - ANTHONY PAPPA, UK

"Diverse, emotive, dubby and brilliantly different. Lots to chew on here..." - DEEPCHILD, Trapez

"Waiting For Troll is great, definitely his own 2¢ on the dub/techno crossroads. The Audiard remix is really nice as well. Thanks!" - BRYAN ZENTZ, Plus 8

"Loquebantur is for me." - PEPE ARCADE, Pong Musiq

"Nice stuff!" - FINE CUT BODIES, Resopal

"Cool, creepy vibe... Nice!" - TYLER STADIUS, Proton

"Nice EP overall." - ANDREW GRANT, Circoloco

"Audiard remix and Waiting For Troll are our picks here, but the whole EP is very nice - viva la dub techno!!!" - SIGNAL DELUXE, Blaq

"Good release, emotional stuff! Like it, thanks!" - ANIMALTEK, Trebistoff


Watch the video for 'Pour Autant' on YouTube!


thoughtlessmusic.com
soundcloud.com/thoughtless
facebook.com/thoughtlessmusic